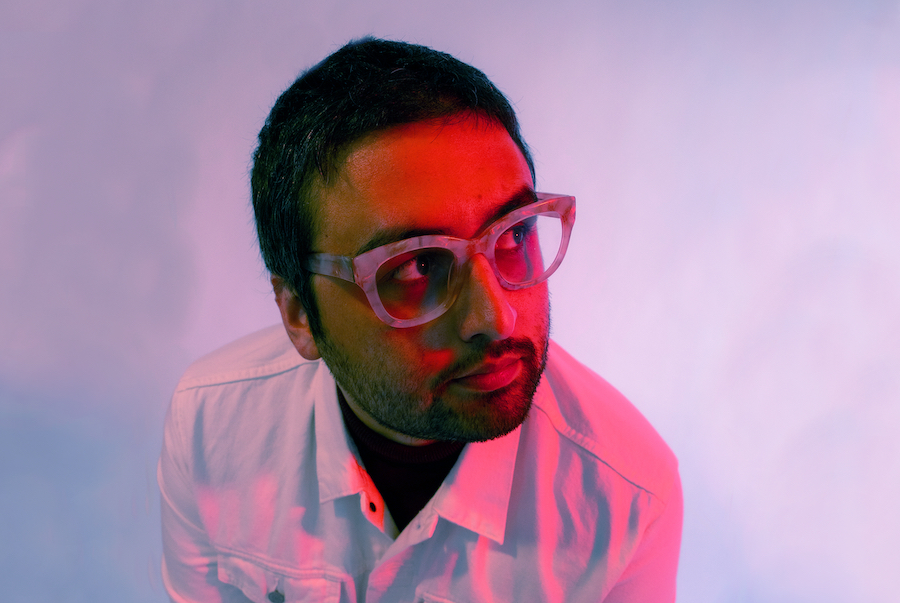 Glassio shares the songs that saved him throughout his life
Irish-Iranian singer-songwriter and producer Glassio delivered loose, cosmic compositions for several years before solidifying as a solo project with 2018's age of experience PE. In the midst of a pandemic, he released his first album For the very last time in July 2020 and has since released a prolific string of singles throughout the past year. Today he shared his latest two singles 'Breakaway' and 'Everybody I Know Moved To LA', both of which were written in the first summer of the pandemic as Glassio watched a wave of close friends move on. from NYC to LA. He revealed that the double single taps into "opposing moods, but different sides of the same coin".
"The song was definitely my emotional reaction to seeing New York change — not just suddenly after March 2020, but over the 11 years I've lived here," he explained of this latest single. "C It felt like with each passing year, you would lose a number of your friends on the West Coast." Meanwhile, the former track is for "anyone who feels out of place in a community and needs to find the courage to leave this place to realize his dreams and self-fulfilment. It stems from the prospect of leaving behind a broken home and a turbulent childhood through self-reinvention."
Glassio, as evidenced by these two recent tracks, has a knack for extracting diamond-raw vibes and polishing them into pockets of kaleidoscopic new wave and soulful synth-pop. Its catalog follows the long list of artists transforming tumultuous feelings into inspiring sounds that, for listeners around the world, can literally change lives. Below, Glassio has shared some of the songs that have saved him — both in his creative and personal life — over the years and explains their significance to him. Listen and read his notes below.
Glenn Campbell""Wichita Lineman"
It was the first song I think I heard, and it always grounded me whenever I felt distraught. My family moved around a lot while I was growing up. I always sang it to myself whenever we moved to a new place or whenever I adjusted to a new school or a new neighborhood.
Yazoo"Only you"
As a child, I often visited Iran, as some members of my paternal family lived there at the time. I never spoke the language and always felt very distressed and out of place each time we visited, so I would choose to stay home for the entirety of most visits. I found a karaoke machine (mainly designed for children) in one of the old Persian bazaars while traveling. My parents decided to buy it for the house. The machine contained only 10 songs, including "Only You" by Yazoo, a group that would strongly influence my music. It was my introduction to them. It was the craziest karaoke machine ever (essentially a toy for five-year-olds), but I fell in love with "Only You." To this day, it's still my favorite karaoke song.
Lou Reed, "Perfect Day"
Saved me from never learning to play the piano. Where I grew up in the Middle East, we basically had a Virgin Megastore. I remember seeing a cover of one of Lou Reed's greatest hits and being magnetically drawn to it, not knowing what kind of music he was making. The first song on the album was "Perfect Day" and I really feel like the colors of the universe around me have changed in those three minutes and 45 seconds after hearing it for the first time. times. It was my time when we are no longer in Kansas. I immediately started learning the piano myself by practicing this song. It quickly became my goal, one day, to make music that would hopefully have the same effect on others.
Paul Simon"Another galaxy"
Saved me from homesickness. When I was 10, my family had moved to central California, halfway around the world. It was a big step and an adjustment. We finally had to move again, and that's when I came across the Surprise album that Brian Eno and Paul Simon worked on together in 2006. I think at the time I was very confused as to where/which "home" was for me, and the lyrics of this song were really about that experience, not to mention the atmospheric mix of electronica and folk, had a huge subconscious influence on me. I still love to play this song whenever that feeling of homesickness kicks in.
Laurie Anderson"O Superman"
A great song for me in the years after my parents divorced. My parents separated when I was 16, and my mum and siblings moved to the UK, with my dad visiting me every few months. I finished my first year of college in New York and returned home to visit my mother and my brother and sister in this new place. It was a very confusing time. This summer of 2012 was essentially summed up by this song on repeat.
magnetic fields,Daddy was a rodeo"
Saved me from the fear of being lyrically vulnerable while writing music. I was studying music production in New York and slowly started releasing my own music. This song really spoke to me; the topic seemed relevant, and it inspired me to be unapologetic and unfiltered in my lyrics. Completely changed everything for me. I owe a lot to this group.
Air, Mike Mills
Saved me from stopping music production. There was a brief period, around the age of 20, when I thought that I no longer wanted to make music, or more precisely, be a music producer. I was in a program with some pretty talented people, and I think I suffered from impostor syndrome. I came across the Talkie Walkie album, and I had never heard anything like it. This piece, in particular, blew me away. I walked along the west side of Manhattan most weekends listening to this song over and over. It was like a new chapter for me. A year later, I was kind of in the same bar as Nigel Godrich (who co-produced the track with Air) in the East Village. He was sitting with Flea and Tom Yorke, drinking and chatting. After a few cocktails, I worked up the courage to tell him (as I left the bar) that "'Mike Mills' made me want to be a producer." I think I surprised him and confused him a bit, but he was very nice and said thank you.
Jean Grant,GMF"
This song was basically a mirror held up to me at 21, and damn it made me feel ridiculous. Obviously John Grant is an exceptional singer-songwriter, and the melody alone is enough to blow your hair back, but the lyrics really disarmed me.
Meshell Ndegeocello"Crazy about me"
Saved me after an early breakup in my life. Pretty crazy experience just typing this as it still doesn't seem real, but Meshell Ndegeocello came into class as a guest lecturer for my music production and engineering course during my freshman year. I thought she was the coolest (it was me who discovered her music for the first time). She played this song in class, and it became something I needed to listen to again and again during this time of grief.
SANDII"ZOOT KOOK"
I came across this one via a mix by Haruomi Hosono (who produced the song) that Joakim was doing for Vinyl Factory. For me, this track literally invents a new emotion, something that is rarely discussed and that borders on paranoia and curiosity at the same time. It shelters in that space where you don't quite know how to feel – giving off the feeling of dancing in a space that you know won't be there for long and everything is about to fall apart. It's like a snack before a tsunami. I've always been deeply drawn to tracks that do that, and this one took it to a whole new level for me.
hot chip"Take it" (Osborne Remix)
I used to finish my first DJ sets with this one. It taught me that dance music can be soft and delicate, and it inspired a lot of the music I make.
The Blue Nile"downtown lights"
Saved me through a year of change. In 2018, a lot of changes happened in my life and I needed a musical anchor (other than the things I had been working on). An old friend sent me the Hats album, and that song blew my mind. I spent many nights walking around Park Slope in Brooklyn playing this over and over and over. I think I traveled all over Brooklyn listening to it and felt like I was only out for half an hour.
Scott Walker, "It's raining today"
I can't remember how I came across "It's Raining Today", but its boldness was a huge inspiration to me. The combination of those dissonant strings and that beautiful melody blew me away. A song that I would have liked to write.
Jack Nitzche, "Charmaine"
Saved me from the fear of flying. In college, I developed a pretty crippling fear of heights and flying, which wasn't easy to avoid given that my family lived in different places. After the first confinement in May 2020 (I was in London), I had to choose to return to New York for my work. It was late May and there were only four people on the flight with me which added to my heightened anxiety. I remember downloading [One Flew Over the] cuckoo's nest soundtrack the day before and in exclusive listening for the duration of the flight. It was a daytime flight, and for the first time in years, I was reveling in the experience of looking out the airplane window. The chords of the song worked so well with the way the wing shone in the sun. Every time I fly now, and turbulence comes, I put this song on.
The rocks"Hammond's Song"
God bless Maggie Roche for this magnificent masterpiece. This song landed in my lap out of the blue when I needed it most. I discovered it a few weeks after losing my father. The way their voices mingle with Fripp's guitar is absolutely heartbreakingly beautiful. This song helped me get back on my feet.