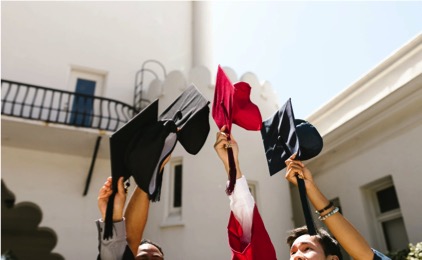 Here's How to Thrive in an Online Masters Program
Earning a master's degree online is no easier than earning it in person. In some ways, it's harder because you need the self-discipline to hold yourself accountable and complete your courses without the structure of a brick-and-mortar curriculum.
That said, it's entirely possible to earn a master's degree online and get an education that's as good, if not better, than you could get in a physical program. The key to thriving in an online master's program is to make completing your coursework a priority. You'll need to make room in your schedule to review course materials, read, and complete assignments, while balancing everything on your plate — work, family, hobbies, and friends. These tips can help you.
Studying should be your top priority if you are trying to earn a masters degree online. You will need to sit down with your planner each week, consider your academic and personal priorities for the week, and plan your days so that you have enough study time each day.
Here's the really important part: when your scheduled study time arrives, you have to sit down and study. You can prepare a study area in your home where you can make yourself comfortable and have all your materials close at hand. You can study at whatever time of the day or night that best suits your schedule, whether it's getting up at 4 a.m. to work a few hours before the kids get up. at school, or staying up late, or even burning the candle at both ends.
You should set aside time each day to study instead of waiting to do so in random free time. But it also helps if you can fit studying into your regular routine. Try to start your study sessions at the same time each day. Do a little personal ritual to make studying more enjoyable: make a cup of tea and put on your biggest, fluffiest slippers and bathrobe. After a while, grabbing the tea bags will put you in the study mindset, and the power of routine will help you maintain the discipline to study on days when you're tired, sick, or hassled.
Programs like the Online Masters in Special Education at the University of Arizona make it easier to earn a graduate degree from a top school without setting foot in a classroom. But just because you're not going to school on campus doesn't mean you can't take full advantage of campus resources. You may not be able to get into the campus library, but your school can help you access online resources like WorldCat or JSTOR. You can also use campus resources like the writing center, tutoring, and mental health counseling virtually. Your school may even offer resources specific to the needs of virtual students.
Keep distractions to a minimum
It can be difficult to minimize distractions when you have a family at home, but if you want to get the most out of your study time, you'll need to take the appropriate steps. Maybe you have a study space with a door that locks – use it. If the distractions persist — or you don't have a spare room to turn into an office — figure out the main ones and take steps to mitigate them. Maybe you can park the kids in front of Netflix for a few hours a night so you can focus on your homework. Maybe you need install a social media blocker to improve your concentration. Maybe you just need to have some snacks nearby.
Bond with your classmates
Your classmates will one day be your colleagues, and being friendly with them could really benefit your career. But you are already able to look to your classmates to reinforce your own success. Your classmates can become your virtual study buddies, answer your questions about what's going on in class and help you understand the material through discussions. Use the virtual tools at your disposal to create dynamic online friendships with your cohort.
Ask for help when you need it
If you find that you are having difficulty in your online master's courses, ask for help. If you struggle with the content of your lessons, talk to your classmates and teachers until you understand. Professors are usually happy to meet with students to discuss class concepts or any issues you may have with the materials. If you need an extension for a mission, ask for it. If you need mental health help, contact your school's student health services. There is always someone ready to lend a hand. You can succeed in an online masters program. All you need is the discipline to apply yourself to your studies, and before you know it, you'll be hanging your diploma on the wall.
For more articles, visit OD Blog.