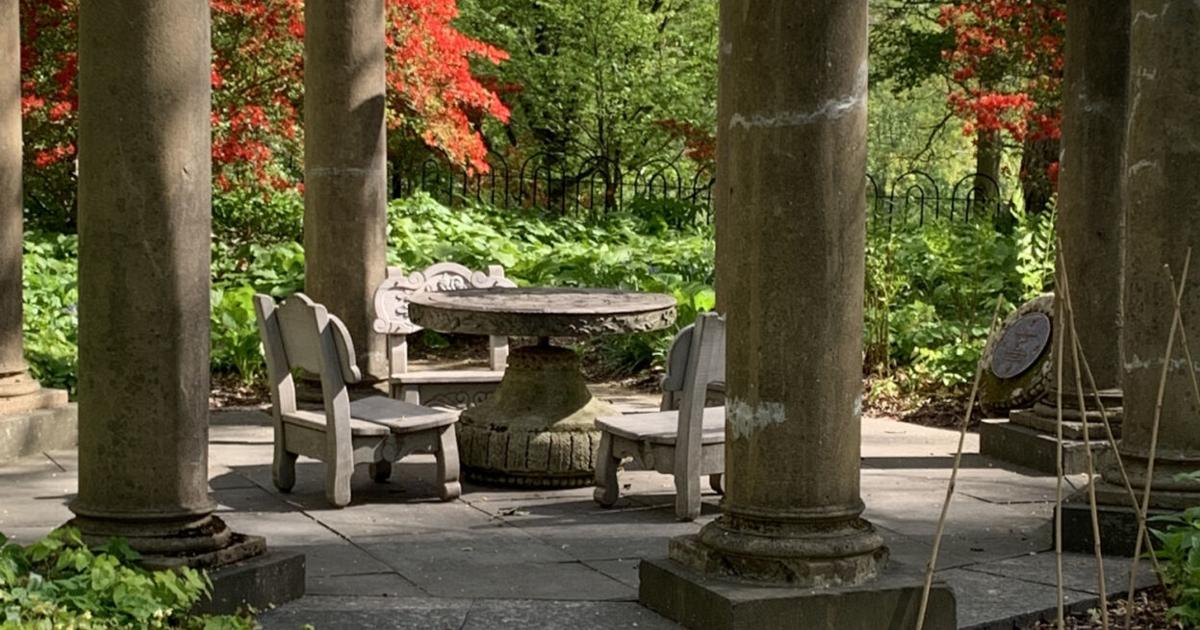 Master Gardener: Finding inspiration in public gardens | Lifestyles
This is the perfect time of year to visit the public show gardens. The weather is warm enough to be comfortable outdoors, without getting too hot. Flower displays can be spectacular! We enjoy the blooms at the Lilac Festival most years, but there are plenty more gardens to visit if you can find the time.
My husband and I recently took the six hour trip to the Philadelphia area. An area called the Brandywine Valley is home to several amazing public gardens. While Longwood Gardens is probably the best known in this area, the others I've visited are less formal and more inspiring for the home gardener.
I chose on this trip to first visit Winterthur, an area that includes a museum as well as extensive gardens. My husband dropped me off around 2 p.m. after our six hour drive. The three hours before they closed were more than enough to explore the place.
I started with the free narrated tram ride through the gardens, to get an overview and hear the narration. The first gardens were established in 1839, with three generations owning the gardens until 1969. These duPont families shared the concept of gardens that seem to grow naturally there. Many plants grow naturally in the area, but hardy introduced plant varieties are included to provide variety and interest.
I spent a few hours exploring on foot after the tram ride. I was lucky to have arrived at the height of their azalea bloom. They grew beautifully in the partial shade of a woodlot. They occupy a space originally planted with American chestnut trees, which succumbed to blight in the early 1900s. Other trees planted in this area include maple, birch, and two varieties of oak. Spanish bluebell bulbs, whose flowering period coincides with azaleas, are widely planted in front of azaleas.
Other plant themes occupying a dedicated space include magnolias, pines, winter hazel and peonies, with tree peonies just beginning to bloom when I visited. I enjoyed the enchanted wood which had several features to delight children: a serpentine brick path to follow, a few playhouses, a maze, a large bald eagle's nest with stone eggs, and a small table and chairs surrounded by tall pillars, ready for a tea party. There were a few opportunities to play in the water, which probably attracted a lot of youngsters in the hot weather.
A large area next to the Enchanted Garden was called the Sundial Garden, planted in a more formal design with sun-loving plants that were not yet in bloom. Didn't get a chance to visit the Quarry Garden, or hike the Sycamore Hill and Oak Hill trails. These areas offered less planting: Sycamore Hill included a few buildings for summer entertainment; the Quarry Garden and Oak Hill offered beautiful views of the creek.
The Winterthur property includes a museum and a library, which I didn't have time to visit. The items offered in their catalog, which magically appeared in my mailbox, are lovely.
Julie Brocklehurst-Woods has been a volunteer Master Gardener with Cornell Cooperative Extension of Livingston County since 2002. She enjoys helping all gardeners become successful gardeners, especially helping people identify tools and strategies to prioritize and simplify their tasks. of gardening. She will answer gardening questions by email: JulieBW48@gmail.com.