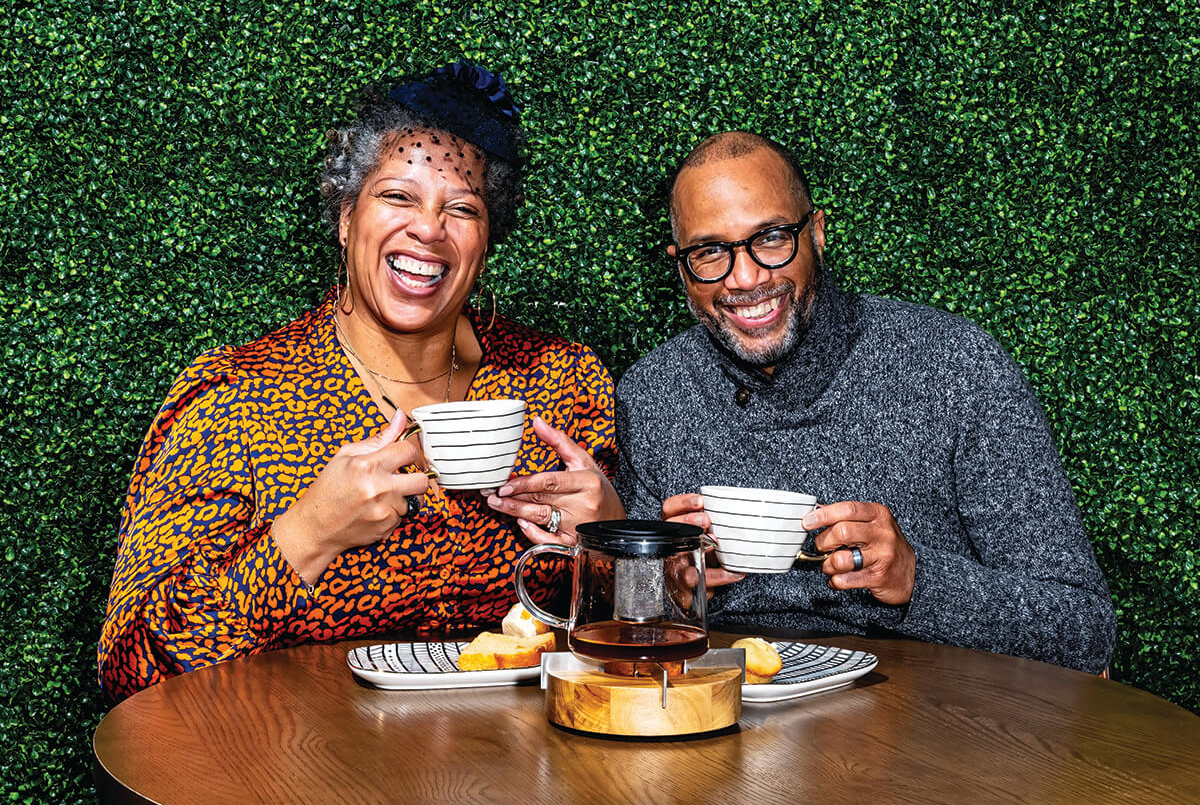 Owners of Cuples tea houses tout the benefits of the drink
Years ago, Baltimore residents Eric and Lynnette Dodson were thinking of new business concepts when they decided to open a teahouse. "We had tea as a lifestyle choice," says Eric, who is also director of Baltimore County Public Schools Television. "We were looking for ways to cut out sugary drinks, juices and carbonated drinks."
After learning that tea is the second most consumed drink in the world, the couple were convinced by the idea. "We thought, 'Would it be cool if we brought this to our community?' says Eric.
In 2015, the cleverly named tea cups was born as an online tea shop and wholesaler selling tea to places like Harmony Bakery and Fishnet. Last November, they opened a physical location alongside several other health-focused businesses on the same block on Howard Street.
"Being here as a black-owned business is important to us," Lynnette says. "Howard Street was once a great place to shop and that's long gone. We're glad this block of Howard Street is leading the charge.
Why tea?
"We like to brag about the health benefits of tea," says Eric. "We just want to share this with as many people in the black community as possible, to help reduce the disparity of diabetes, high blood pressure, obesity, heart disease – so many people in our community are drinking our calories and that feeds those questions. We said, "Let's educate people about tea and all the medicinal benefits that come with its consumption." » »
Tell me about your teas.
"We have about 56 types of tea," says Lynnette. "We now have nine teas that are blended in-house. The others are sourced. We have teas from Taiwan, India, South Africa, China, Japan and Sri Lanka, literally all over the world.
Why did you want to open in downtown Baltimore?
"It was important for us to open in the city. We have food deserts and convenience stores on every corner," says Eric. "We wanted to drop a teahouse in the middle of the city of Baltimore and say, 'Come on in and try this tea. ""
What does your slogan "the Urban Tea Experience" mean?
"You have traditional tea elements that people associate with tea — the lace, the doilies, the gloves, the hats," says Lynnette, "but we want to present it in a way that isn't intimidating." Eric adds: "It's such a cultural drink, but it's also community-based. This forces you to slow down – you have to wait for the water to boil, the tea to steep, and then cool. In times like these, that's where you bond with someone – that's always been the purpose of the physical space, to experience good music, cultural vibes and tea.