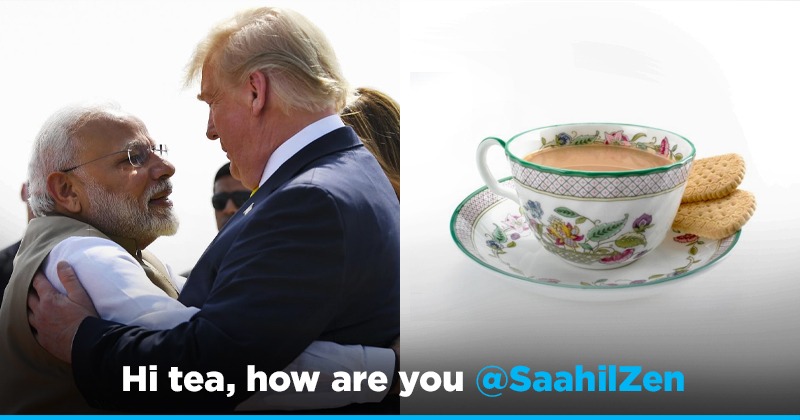 People are 'very' unimpressed with Trump's 'Hi Tea' menu, which includes Broccoli Samosa!
Donald Trump's first official visit to India was nothing short of luxurious. From people turning up in their millions to attend the 'Namaste Trump' event, to a single night in the Grand Presidential Suite costing up to Rs 8 lakh per night, it's all about as amazing as it gets.
However, POTUS' "Hi Tea" menu at Sabarmati Ashram leaves people feeling a bit disappointed. From "broccoli samosa" to "bee cookies," the menu is not what the president expected of the President of the United States.
Hi tea ☕️ menu for @realDonaldTrump at the Sabarmati Ashram. Khaman, Samosa and Kaju Katli!! @MilanV @AyresAlyssa @irfannooruddin @gandhiwdc @jslaternyc @SBengali @slakster pic.twitter.com/AVuX9I73vW

— Mahesh Langa (@LangaMahesh) February 23, 2020
Here's what the very unimpressed people had to say:
1.
Why is it a "Hi" tea instead of a "High" tea? Why such a stupid typo???

But with this kind of menu, it could easily be renamed 'Bye' tea! https://t.co/5ul3q4yA3P

— Jeena ਜੀਨਾ джина (@jeenasingh5) February 24, 2020
2.
The correct term is 'High Tea' 🙈 I wish I could hide that misspelling behind a wall!!

— Chase Me (@IAmHighOnHeels) February 24, 2020
3.
Whoever made this menu must hate Trump, otherwise I see no other reason to torture someone in the name of food. https://t.co/KRo7yUuZsf

— Harry 🍰🧁🍕🍟 (@harrywithdreams) February 24, 2020
4.
Samose mein broccoli toh apne principal dushman ke liye bhi na daalu 😣

—Sanya. (@ShitSaniyaSays) February 24, 2020
5.
They got me at the tetra pack

— Irfan Nooruddin (@irfannooruddin) February 23, 2020
6.
Canned juice and tetrapacked coconut water for @POTUS 😂 Are you serious? What is this samosa stuffed with broccoli? Who even selected these items for the menu? It's an insult to all #greedy in India!!!

— 🅾️LD Ⓜ️onk (@0ld_Monk) February 24, 2020
7.
*Trump after seeing Brocolli and Corn Button Samosa on the menu* pic.twitter.com/BF27ovGtTs

—Meghnad (@Memeghnad) February 24, 2020
8.
Please tell me a copy editor looked at this and changed "Hi tea" to "High tea" before it was finalized. It hurts as much as this broccoli samosa will hurt Trump. https://t.co/qsQdUo6p1g

— Sayantan Ghosh (@sayantansunnyg) February 24, 2020
9.
Looking at the menu, I don't come.

— Rajat (@jorhatrajat11) February 24, 2020
ten.
Yeah. It looks terrible. Canned juice? Tetra Pak?? Really?!? We have better food to offer. . . the indian platter is amazing. This menu is… disappointing!

—Roopal (@roopal01) February 24, 2020
11.
It's way too light for Trump who likes McDonalds burgers and fries

— Ali Mohammad (@StandwithAli) February 23, 2020
12.
Ek cup chai aur namkeen se bhi kaam chal jata itne paise barbaad ho rahe hai humare 4 no reason

— Gaurav R@¡ (@GauravRaiAatish) February 24, 2020
13.
Broccoli Samosas… Seriously… Samosas all over the world have to die of shame today. How can anyone even dream of samosaa without Aloo.
Welcome Trump Bhai!

— सुशील कुमार झा (@sushilkrjha) February 24, 2020
14.
Why is it called "Hi tea" and not "Hello tea" or "Hey tea"?

— Sayantan Dutta (@tweeting_trends) February 24, 2020
15.
Isse bought Maggi a summer salute.

— Prakhar (@blablebleuu) February 24, 2020
16.
Hi tea, how are you? 😂

— Unemployed Sahil (@SaahilZen) February 24, 2020
17.
The only shock absorber @realDonaldTrump visit is that he will be fed broccoli samosas. Samosas around the world must die of shame. As there is no BIHAR without Lalu, there is no samosa without Aloo. @USAmbIndia

— SUHEL SETH (@Suhelseth) February 24, 2020