Q Mex's Updated Summer Menu Brings Terrific New Dishes to the Table
I hadn't been to Q Mex's Solana since they held their opening night in September last year so I was really looking forward to another visit, especially to see what it was like during the day.
On the way up, I was immediately reminded of how beautiful this part of Solana is, with terraces overlooking the greenery of Chaoyang Park and soaking up lots of sunshine, and wondered why I didn't come here more often.
Q Mex itself has outdoor seating downstairs as well as an upstairs terrace making it a great spot in the summer. Seating options aside, I was here to sample their new summer menu, which just launched with new items and some updates to some old favorites.
A new starter offered is the Avocado and Chicken Salad (RMB 75), a twist on their super popular Avocado and Shrimp Salad. Grilled chicken is tossed with avocado, couscous and an array of other vegetables to create a light and refreshing salad. Now, only time will tell if it will be a hit, but if the taste is anything to go by, it sure will be.
Another new entry is their updated Chicken Taquitos (RMB 58) which is now topped with salsa and chimichurri instead of green salsa. It was everything you'd expect from a taquito, beautifully crispy with chunks of chicken and packed with flavor.
For their main courses, they updated an old classic The Q Mex Chicken Burrito (RMB 80), toning down the seasoning of the chicken and letting the quality meat speak for itself, which I can assure you. I also tried their Mexican Supreme Pizza (RMB 85) which, although not part of the summer menu update, is relatively new.
We had the thin crust version, which is actually made from a tortilla, making the pizza much lighter and a great option for anyone wanting to cut carbs. The pizza is topped with tomato sauce, salami, spicy beef chorizo, white mushrooms, bell pepper, red onion, and mozzarella to create what is essentially a taste of Mexico in your mouth.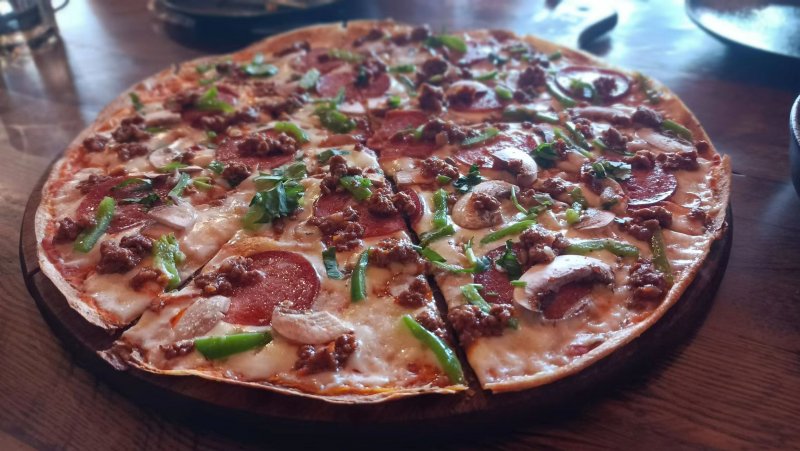 My favorite dish by far, however, was their new steak dish simply titled the Q Steak (RMB 168), which consists of grilled beef tenderloin medallions topped with chimichurri and served with roasted vegetables and chipotle corn.
The steak was incredibly tender and melt in your mouth and paired perfectly with the chimichurri. The roasted vegetables and chipotle corn were also a really nice change from the usual fries that are normally served with the steaks at Q Mex.
Now, would a meal be complete without dessert? Of course not, so to finish we had the new Tres Leches pudding (RMB 45), a twist on the traditional Mexican Tres Leches cake.
The pudding is made with three milks (evaporated milk, condensed milk and heavy cream) then is topped with vanilla ice cream, salted caramel, chocolate sauce and slivered almonds. I don't have a super sweet tooth and also often find things too rich, but I was pleasantly surprised by how light this dessert was. It was super creamy and not too sweet at all, making it the perfect combination for me.
To accompany the meal, I tried one of Q Mex's new drink offerings: a Roc Craft Cocktail Margarita (RMB 45). If you haven't heard of Roc Craft Cocktails, they offer bottled cocktails. In addition to the Margarita Q Mex also offers Roc's Mojito and Long Island Iced Tea. The cocktail was very refreshing and it was nice to have a long, fizzy version of a Margarita.
Another thing to mention: Q Mex has also introduced a whole new range of vegan dishes such as the Beyond Meat Fettuccine (RMB 80) and their Beer Battered Mushrooms (RMB 58). It's great to see restaurants like Q Mex starting to offer more diverse vegan options.
With a potential lockdown still on the horizon, some people may rightly be hesitant to venture out, but the good news is that Q Mex is available to order on a number of waimai apps such as Meituan, Eleme, JSS and Sherpas. So if you want to play it safe, just get Q Mex delivered and enjoy some of their delicious new dishes from the comfort of your home!
The new Q Mex Summer menu is available at all of their locations except Q Mex Taqueria which has a different menu.
Q Mex Solana
A132 Langangwan Street L1, Solana Blue Harbor 6 Chaoyang Park Road, Chaoyang District
朝阳区朝阳公园路6号蓝色港湾L1大街A132
READ: Communal Reserve mixes things up with new brunch options
Images: Katie Coy