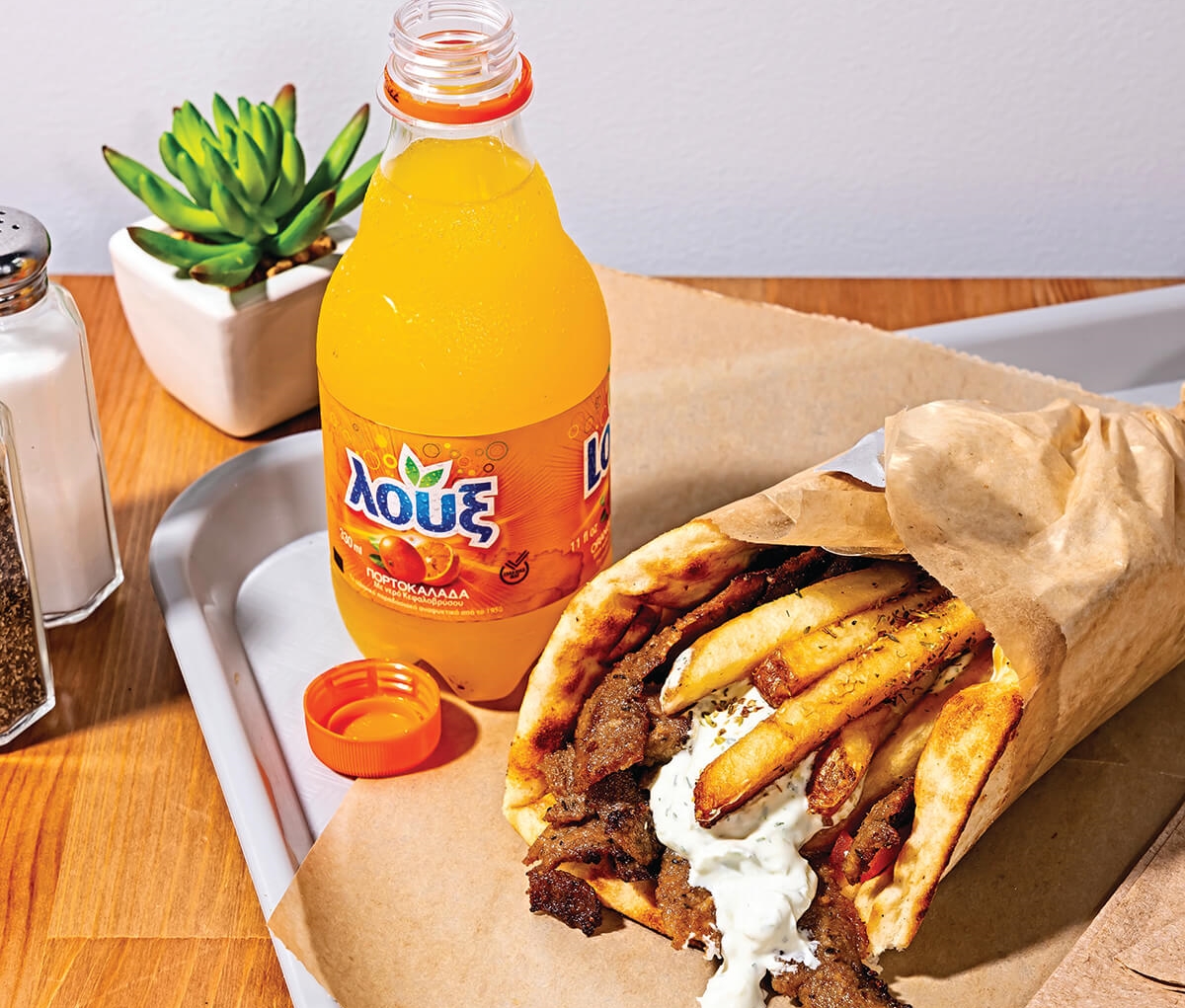 Yeeros at Federal Hill puts gyros on the menu
Step up to the counter at Yeeros, Federal Hill's cozy Greek restaurant, and you immediately see one of the place's main selling points: the vertical roasting spits that give the restaurant its name.
Yeeros is not an alternative spelling for "gyros", the traditional pita-wrapped sandwiches as well as the skewers themselves, but rather a phonetic spelling. Owner Michael Taramas chose the name as part of his ongoing campaign to get people to pronounce the dish correctly.
"In Greece, you ask 'JY-ros'," he says, saying the word deliberately, "and they ask what it is."
Taramas, who is from Thessaloniki, opened Yeeros in November, with a menu that is much the same as his family's other restaurants, both called Souvlaki, one in Hampden and another in DC. But while none of the Souvlaki locations serve as gyros, they feature prominently—unsurprisingly—in the place that bears their name.
Taramas, who previously owned restaurants in his native Greece, is also a civil engineer. So when he took over the Federal Hill location, he remodeled the space himself, exposing the original brickwork on one of the walls, adding blond wood flooring, and hanging Edison bulb light fixtures. . There are the necessary images of Greek landscapes on the walls.
The menu is traditional, with kebabs and wraps, spanakopita and hummus, falafel and Greek salads. What sets Yeeros apart from many other casual Greek restaurants is the long vegan menu, with vegan versions of spinach pie and "befteki", a meatless version of the savory burger dish, as well as zucchini balls crispy fries. The dishes are served on newspaper, with triangles of pita sprinkled with herbs, and are accompanied by a thick homemade tzatziki. In fact, everything is homemade except for the desserts, baklava and kadaifi, which come from a Greek supplier in New Jersey.
Gyrophiles might be surprised to find their fries inside the wraps rather than next to them. "That's how they serve it in Greece," says Taramas, who lives in Baltimore's Greektown neighborhood. Recipes come from family and friends, including his brother, a longtime chef. And the gyros are wonderful: a soothing combination of well-seasoned meats, creamy tzatziki, chopped red onions and tomatoes and, of course, those fries, with nice thick bread folded around the whole thing like a bouquet.
While the vegan and vegetarian options are commendable — the zucchini meatballs are great, though the falafel is a bit dry — it's the meat that excels here, especially the steak. These savory and surprisingly flavorful beef patties come in a pair and are served with pita bread and a choice of sides. Pair them with a green salad, topped with feta and tzatziki, then opt for an order of kadaifi, a syrup-soaked nutty pastry constructed with thin strands of dough that make the dessert eerily reminiscent of a bird's nest.
And if you need a coffee (Yeeros offers soda, lemonade, kombucha, and tea), there's a Ceremony outlet across the street.