Paris on brunch: Gen Sou tea house En | UB today
Contemporary setting, traditional green teas and Japanese-inspired cuisine
With a Starbucks, Caffè Nero or Dunkin Donuts seemingly on every corner in Boston, there's no shortage of coffee in – yes, Beantown. But when it comes to tea, the options are more limited.
So tea lovers, fans of Japanese green tea in particular, were delighted to learn that the modern Japanese tea house Gen Sou En took over the former Panera space of nearly 6,000 square feet at Coolidge Corner.
Gen Sou En serves authentic Japanese teas, food and pastries ssince February. He has a vast drink menu, black, green and herbal teas and coffee and espresso options, a small but delicious breakfast menu, and a larger lunch and dinner.
We stopped in on a recent morning to try it out. We came away with a new appreciation for the subtlety and flavor of green tea and the centuries-old tradition of its preparation and serving. Sourced from the tea-growing regions of Japan, the leaves are steamed immediately after being picked, then dried and rolled and shipped to Gen Sou En, which means "from farm to cup".
The tea house offers three green teas, each with a distinctive profile, and traditional matcha, the powdered green tea traditionally used in Japanese tea ceremonies. Traditional matcha and matcha latte (which are all the rage in Tokyo right now) are available.
Drinks, menu items and pastries are ordered at the cash desk and waiters bring them to your table. From the limited breakfast menu, we choose the avocado yaki-pan ($6), a delicacy known as a swimming turtle ($3) and a few pastries: a croque-monsieur ($3.50 ) and a cranberry-yuzu muffin ($3), plus a classic matcha latte ($5).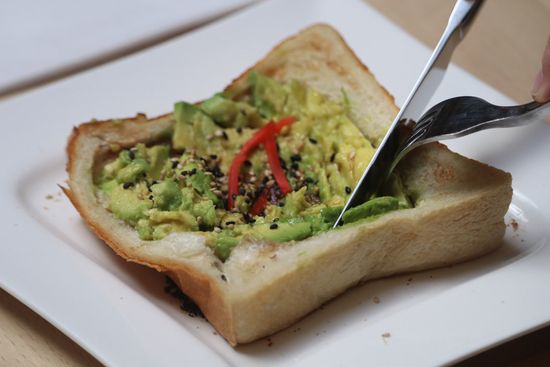 The must-have avocado yaki-pan – a unique twist on avocado toast – is a thick, warm, country-style loaf, crispy around the crust and soft in the center, and topped with a generous helping of sliced ​​avocado. costs. What sets this dish apart is the addition of soy sauce, sesame seeds, and a red pepper garnish. The sauce gave it an interesting balance of sweet and savory, adding a decidedly Japanese twist to a popular American dish.
Next, we tried the croque-monsieur: layers of ham and melted cheese on a thick slice of shokupan (Japanese milk bread). The bread was warm and soft, almost airy towards the center, and the balance between meat and cheese was good, neither overwhelming the other. The traditional French dish was hearty, but nothing extraordinary.
The cranberry-yuzu muffin, a tall, rounded dough filled with cranberries and covered with a light dusting of icing sugar, was tastier. Encased in a harder outer shell, the sweet, mushy interior, with fruit bits throughout, offered a nice hint of cranberry without being overpowering. The muffin is a great study snack, probably the reason so many customers with laptops ate them.
Now let's move on to our favorite pastry: the swimming turtle. This fun creation is a sweet brioche filled with white chocolate and covered in a thin layer of matcha biscuit. And yes, it has the shape of a turtle. The bun was delicious and the white chocolate soft and creamy, adding a nice flavor. The cookie was also delicious, with a unique green tea taste that went well with the sweet interior. Overall, the swimming turtle is soft, gentle, and delicious.
The breakfast menu, served daily until 11:00 a.m., includes breakfast sando, Japanese-style omelette roll in sushi roll with miso-tomato sauce, authentic breakfast set Japanese (rice, grilled fish, miso soup and pickles), and a sushi roll with seasoned rice and a Japanese-style omelette. Several selections of pastries round out the options.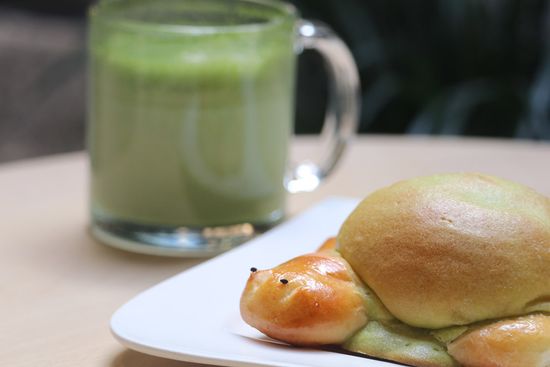 A trip to Gen Sou En would be incomplete without trying the main attraction: matcha. Our matcha latte was a hot, frothy mix of matcha (finely ground green tea powder) and steamed milk, and it was a great base for our eclectic meal, hot and staying warm throughout the meal. The flavor was mild and subdued, with just the slightest chalk. It's easy to see why in just a few months, Gen Sou En has become best known for its matcha.
It's a great place to relax with a cup of tea, delicious pastries and unique dishes. And for those looking for a traditional Japanese tea ceremony, there's even a small, intimate round dining room out back with tatami mats, where visitors sit on the floor.
Gen Sou En, 299 Harvard St., Brookline, is open daily from 6:30 a.m. to 9 p.m.; breakfast is served until 11:00 a.m., lunch service time. Take an MBTA Green Line C streetcar to Coolidge Corner or a short walk to West Campus.
If you have any suggestions for places we should feature, leave them in the Comment section below.
These series
Also in
Lunch, anyone?

Series Home