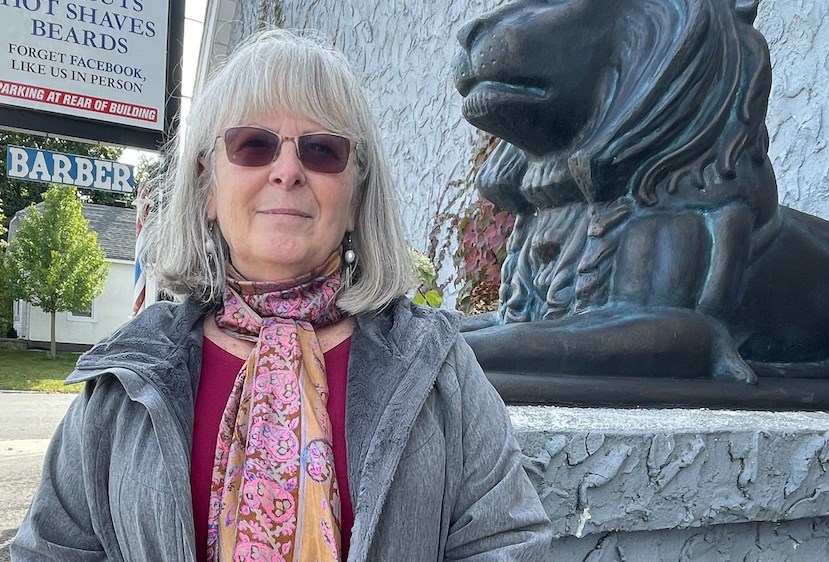 Tea House was "haunted by friendly ghosts," says former owner
"They weren't malicious in any way, they were Caspers, sympathetic ghosts," said the former owner of the historic Westmount Drive building.
It's hard to drive around the corner of Westmount Drive and Mary Street without noticing the distinctive stucco building with two lion sculptures standing outside.
The building, built around 1911, served as a children's clothing store, fish and chip restaurant, steak house, tea room, and now an old-fashioned barber.
The building was owned by Laurie Neill from 2010 to 2019, when she operated the White Lions Tea House.
In his first year in business, Neill and his team noticed strange happenings in the building and didn't care by attributing these weird occurrences to ghosts. But it wasn't just Neill and his team who noticed something was wrong.
"One day I received two ladies at lunch time and they asked me if they could go upstairs; they felt like they were… summoned, "she said. "I was getting messages from people asking if I knew there was an entity there. "
Neill called in a psychic who told him that there was a lady from the 1900s living her afterlife upstairs in the building.
"Her name was Dorothy and it is believed that she was the wife of the original owner. I feel like she died in the house and her ghost got stuck there for many years, "said Neill.
"There's a little walled up nook upstairs in the bathroom that's no use, and I always thought it was buried in the wall, but I never tore it up to find out. "
Neill says there were other spooky events in the building which she attributes to a mischievous little girl named Caroline whose spirit she says lives in the basement of the building.
"She was playing tricks on us all the time. She moved things, she hid things, and she loved playing with rubber bands. They were always everywhere, especially in the kitchen. We would pick them up, throw them in the trash, then find them on the counter or on the floor, "she said.
"She was hiding our utensils, she was hiding cups… the most important thing I had ever seen her move was a chair." We set the tables a certain way and when we came back to the dining room a chair would be somewhere it wasn't meant to be, "explained Neill.
A psychic told Neill that Caroline had died of a childhood illness and had a connection to the old Mount Slaven Public School which was across the road.
While Neill believed her building was haunted, she never felt scared.
"They weren't malicious in any way, they were Caspers, friendly ghosts," she laughed.
"My staff might not say the same. Sometimes they were locked in the basement bathroom. She never did it to me, but she would to my staff.
Neill says she even had to find a new electrician after her military refused to go to the basement.
"He looked like Caroline would touch him; she liked to play with people's hair, "she laughed.
Today, 33 Westmount Dr. N. is occupied by Julien Comtois, owner of the Highlander Old School Barbershop. He says he has never seen any ghosts or strange events in the building.
He also says no customer has ever commented on the potentially haunted building to him.
"There are so many stories of people talking about it, and I don't think they're all crazy. I just know I've never experienced it myself, but that doesn't mean it doesn't exist, "he said.
Neill says it's no surprise to her that Comtois never experienced any sort of haunting in the building.
"You have to be open to that. Sometimes you have to match your experiences with what could have been a ghost rather than giving it natural causes, "she said.
"The second thing I learned from a few psychics about Dorothy upstairs is that she was very terrified of men. I think it's possible her husband was violent, and because I was the first female owner in 30 years and had an all-female staff, she was finally comfortable showing off, "explained Neill.
Now that the building is a barber shop that serves males every day, Neill believes Dorothy has either gone underground or free to go and move on, which she believes is most likely the case. .